Yay! So glad to have you here today! Hopefully yesterday's post was a fun glimpse into the past couple weeks of life on maternity leave. It has been absolutely WONDERFUL bonding with my little man!
Today we are in for some fun! Emily at Two Purple Couches is opening up and sharing some of her favorite projects and tricks of the trade. Emily is a huge support to me and this blog and I so appreciate all of her help over the past year!
Please enjoy your time "At Home With Two Purple Couches"!
1. OMG! Nate Berkus is on his way over – which room in your home would you show him first?
Oh my gosh, I'm torn! Do I share the room I'm most proud of… which would be our family room (which also happens to contain a pair of Nate Berkus for Target table lamps)?? Or do I show him the room that needs work to get his expert opinion??… which would be our master bedroom. Whomp whommmmp.
I just love our purple + yellow + gray color palette, which carries all through our family room and kitchen, from our mantel to our gallery wall and all the accessories in between, like this fabric monogram I made myself.
2. Ain't nobody got time for hard or expensive projects! Which project has given you the most bang for your buck, that you knocked out in less than an hour? You may laugh at how ridiculously simple this little project was, but I believe that sometimes it's the simplest things that make the biggest impact. My linen closet was in desperate need of organizing, so I gathered up a few fabric totes, created labels and got to work!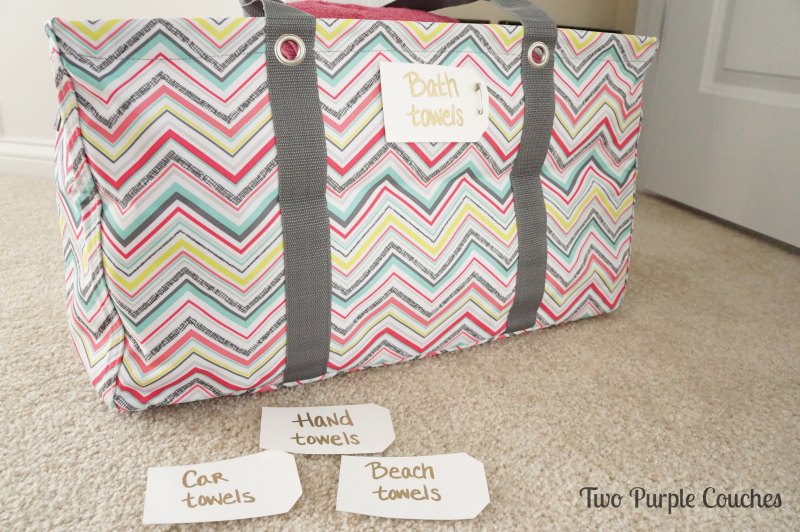 I used my Silhouette Cameo to cut out the labels, but they could just as easily be made with a pencil and a pair of scissors. I used a gold paint pen to write out each item so the labels would have a bit of bling to them.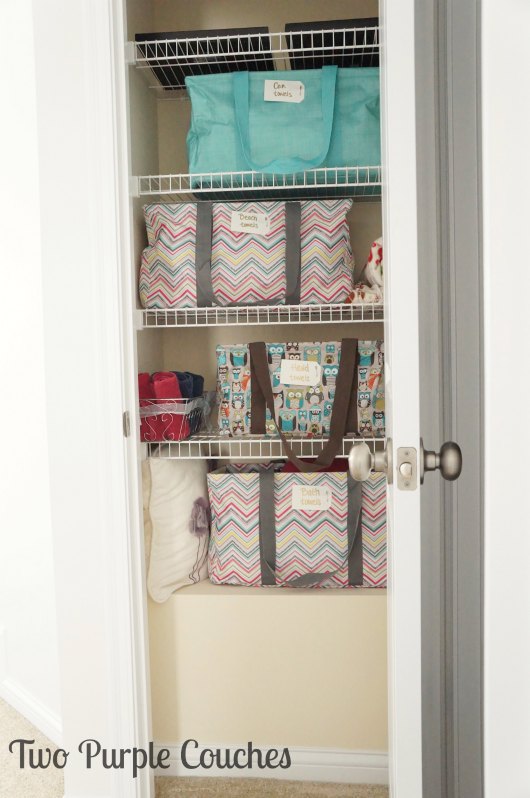 Isn't that so much better than a cluttered closet? And those fun colors and patterns (and owls! I love owls) make me smile every time I reach for a new towel! 3. We all have our secret weapon… which one home accessory or craft supply could you literally not live without? Oooh, this is a tough one!! But I can pinpoint a couple of go-tos. The home accessory I cannot live without is a vase or pillar candle holder. Oh, and fresh flowers! They brighten up any and every space.
The craft supply I cannot live without? Paint pens.
Specifically gold and silver, because you can use them on nearly anything for a chic effect. I've added bling and shimmer to all kinds of things, from wood letters to plain glass votives, even paper mache Easter eggs!





4. Who doesn't love a great before and after? Which one is your fave?
My fave before and after has to be our dining room transformation. From boring and blah and builder beige to a major statement piece that you see the second you walk in our front door.
My husband and I added custom crown moulding, wainscotting, a chair rail, and even beefed up the window with new trim and a new ledge.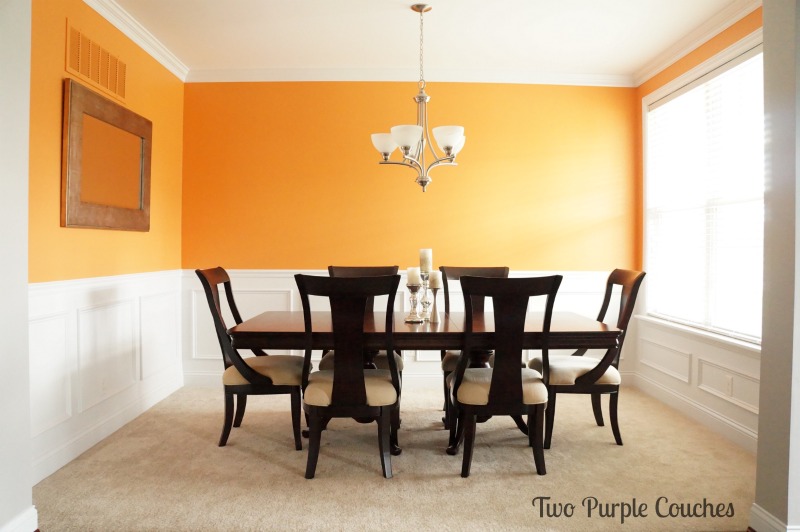 I know orange walls aren't for everyone, but I love color, and we both wanted this room to play the line between traditional, with the trim, and modern with the color and furniture. It still needs some accessorizing, but is already so much better than the "before"!
5. And now, let's get really deep – which project best defines Two Purple Couches?
This is kind of a hard question! Haha!
I guess I'd say that Two Purple Couches is all about the journey of discovering what we love and putting our own personal stamp on our home. So I'd have to say that the project that best defines me is my entryway console table.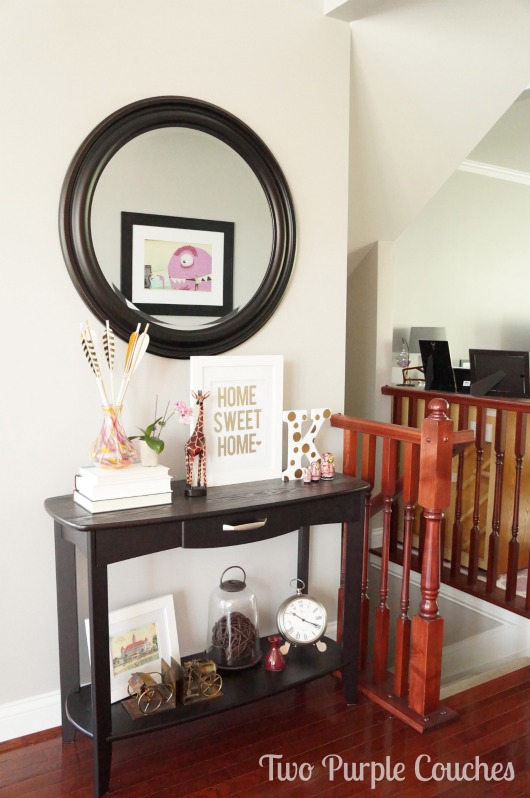 I recently discovered my style equation: color + pattern + kitsch + gold (or really any kind of shimmer and shine). Though this entry table seems kind of small, it's got everything I love in one spot! There are a few pieces that hold special meaning, like the hand-blown vase I made with my cousin at her Oregon glass studio last summer, as well as mementos from recent family vacations.
I also love items that are a little quirky, and there's plenty of that going on here as well, from a set of jalopy book-ends I found at a local vintage store, to the wooden matryoshka dolls my parents got for me on a trip to Alaska.
There's a sort of inside joke to these: I'd traveled to Russia earlier that year for work, but our team's schedule was so packed, I had no time to sightsee or shop! So my parents purchased this authentic set for me so I could pretend that I got them in Russia.
Thank you, Heather, for inviting me to be your guest today!
Please stop on by my blog anytime to see what I'm up to. I love having visitors! You can also follow me on: Pinterest / Instagram / Facebook / Twitter / G+ / Bloglovin' Two Purple Couches
Where this perennial dabbler shares her adventures in cooking, crafting, decorating and DIY.
Thanks Emily for sharing your fun projects!
To see more from the At Home With Series, click below: