Say that title 3 times fast! Although the title of this post is a tongue twister, the tutorial to make this Dollar Tree Cupcake Stand I am going to share today is super easy! Today I am going to show you how to make this Dollar Tree Cupcake Stand, and just like yesterday's 15-Minute Magnolia Wreath, this is made with a couple items from your local Dollar Tree.
You may ask yourself what does a Dollar Tree Cupcake Stand have to do with the holidays?
Well, just about EVERYTHING!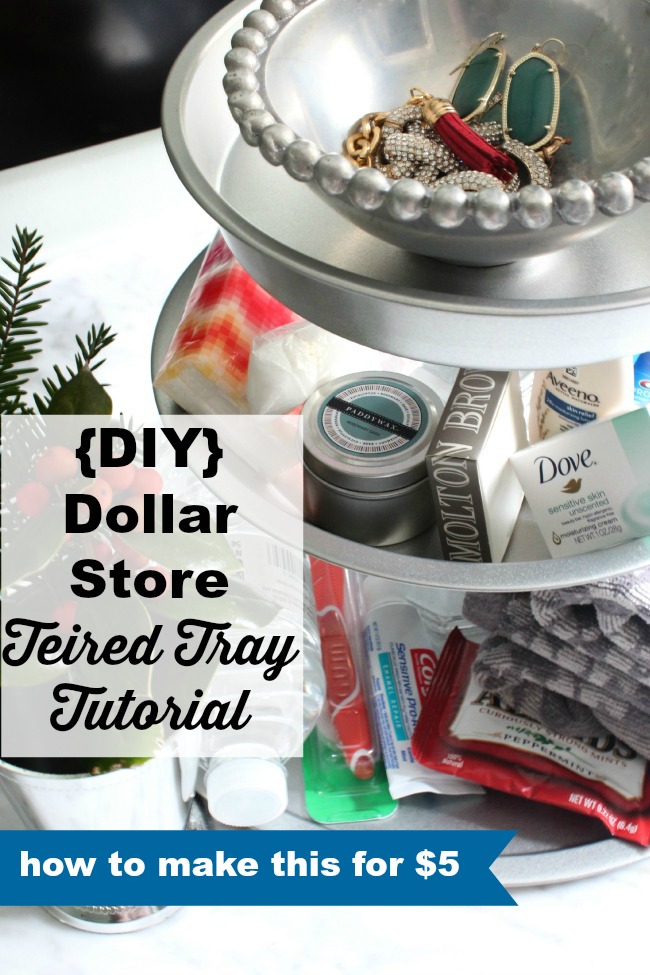 Hosting a holiday shin dig? You can use it to display cookies and apps.
Do you have overnight guests coming? Why not stick this in the bathroom with some soaps, towels and little bottles of toiletries?
Coffee drinkers? Set up a beverage station.
Need a quick centerpiece? Layer some ornaments or pine cones and call it a day!
Seriously, the possibilities for this Dollar Tree Cupcake Stand are endless!
And you can have all of that fun for about $5 and an hour of your time! Intrigued?
First things first, you need to hit up the Dollar Tree. Yep, go ahead and add these items to your Dollar Tree shopping list, along with the foam wreath form to make your Magnolia Wreath!
Supplies Needed:
– Pizza Pan for $1
– Round Cake Pan for $1
– Pie Pan for $1
– Two Clear Candlesticks for $1 each
– Gorilla Glue
Step 1:
Take the pizza pan and one clear candlestick.
Use your glue to adhere the candlestick to the pan.
I used a heavy tray to add weight while it dried.
Continue gluing the pieces together until you have your tiered stand.
From the top to the bottom you will have:
Round Cake Pan
Candlestick
Pie Pan
Candlestick
Pizza Pan
I let the Dollar Tree Cupcake Stand all sit for 24 hours before I started using it.
UPDATED TO ADD: I made a super fun and festive red one too!
And that my friends is how you make yourself a super versatile Dollar Tree Cupcake Stand to use this holiday.
Here you can see how I used it in our guest bathroom for out of town guests filled with toiletries.
Tomorrow I will be back to with a veruh, veruh, veruh easy and tasty recipe. It involves pumpkin, need I say more?
30 Days in a Holiday State of Mind Series
In a Holiday State of Mind,
Heather