Happy first day of Summer! With the official kick off to the summer season, today also kicks off a week-long blog collaboration that I dreamed up a few months back. The idea is to take you on a (virtual) "Great Southern Road Trip" where you never have to leave the comfort of your couch. 20 of your favorite Southern Bloggers will be sharing posts inspired from their Southern Hometown, USA. So grab a cup of coffee and your favorite road trip snacks and let's hit the road!
For my stop on the "route" we will be celebrating Atlanta, GA. For those of you that are new to the blog, welcome and thanks for stopping by Southern State of Mind. We are always happy to see new faces here. If you don't know me, the name of the blog – Southern State of Mind- is a representation of where I have grown up in the south- born in south Florida >Roswell, GA (suburb of Atlanta)> Athens, GA (Go Dawgs) > Atlanta, GA > Chapel Hill, NC> Orlando> now Atlanta, GA. For my hometown inspired project, I am sharing an easy wall mounted bottle opener tutorial honoring Atlanta, Georgia.
DIY Outdoor Curtain Rod Tutorial
State of Georgia DIY Bottle Opener
Supplies Needed:
Instructions:
First, find a wall plaque that you can use as your base. I found my wood paneled plaque at the thrift store and it had a fleur-de-lis design that I just painted over. Really any piece of plywood would work or this round panel from Amazon and even this tree round could be cool.
Next, go online and find an outline of your state of choice to print. It doesn't matter what it looks like because it is just going to be the stencil. Be sure to scale it correctly based on the size of your wall plaque. At first, you can see in the photo above that my original state shape was too small. So I reprinted it to be a better proportion to the size of the plaque.
Trace the shape of your state onto the plaque.
Then, paint the state any color of your liking. I of course, went with navy. #navyismylovelanguage I could see a Carolina blue for any North Carolina Tarheel, Kentucky blue for a Wildcat lover, or a Rocky Top orange if you are a Tennessee fan. #butimsorryifyouare
Then, mount your bottle opener to the plaque wherever you choose- maybe where you live, where you went to school, where you got married- whatever is meaningful to you! This would be great painted red with a UGA bottle opener placed in Athens, GA… you get the drift. Of course, since Atlanta is the Coca-Cola headquarters, I had to use a Coca-Cola bottle opener. I found mine at Scott's Antique Market here in Atlanta, but this one from Amazon is similar.
Next, add the bottle cap collector. I was actually given this little tin as part of a thank you gift from my neighbor and almost tossed it because I wasn't sure what to do with it. It makes the perfect little bottle cap holder! In hindsight I should have put the collector right under the opener… so you may want to make that adjustment.
7. Then you will need to stock the fridge….(with drinks that need a bottle opener of course)!
8. And ENJOY!
I hope you found some inspiration today with a fun way to show your hometown pride…
But The Great Southern Road Trip is just getting started! Go ahead and take a bathroom break, grab some Combos (is there ANYTHING better on a road trip?!?) and come along for the ride. Next up on the route is Amber from Restless Arrow… and there are 19 more Southern Hometown, USA inspired posts that will be shared this week!
THE GREAT SOUTHERN ROAD TRIP ITINERARY
Southern State of Mind {Atlanta, GA} | Restless Arrow {Belton, SC}
Southern Hospitality {Marietta, GA} | Our Southern Home {Caswell Beach, NC}
Southern Road Trip TUESDAY ROUTE: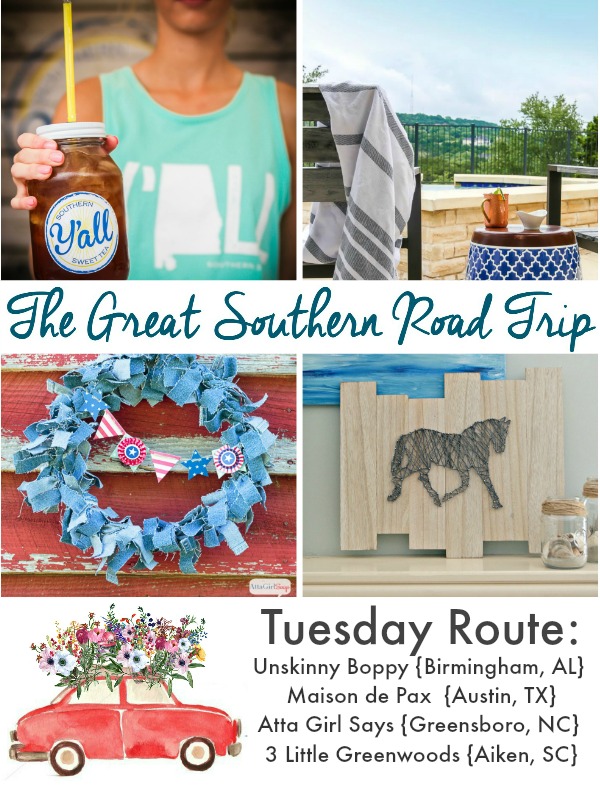 Unskinny Boppy {Birmingham, AL} | Maison de Pax {Austin, TX}
Atta Girl Says {Greensboro, NC} | 3 Little Greenwoods {Aiken, SC}
Southern Road Trip WEDNESDAY ROUTE:
Dixie Delights {Savannah, GA} | Slightly Coastal {Fernandina Beach, FL}
Uptown Acorn {Grand Isle, LA} | The House of Wood {Nashville, TN}
Southern Road Trip THURSDAY ROUTE:
11 Magnolia Lane {Southern Pines/Pinehurst, NC} | The Turquoise Home {Huntsville, AL}
Duke Manor Farm {Pendergrass, GA} | Domestic Charm {Charlotte, NC}
Southern Road Trip FRIDAY ROUTE:
Our Fifth House {Charleston, SC} | At Home with the Barkers {Greenville, SC}
Simple Stylings {Mount Pleasant, SC} | Refresh Restyle {Bishop, GA}